Abstract
As Holger Meyer puts it: "Karajan is an easy to use music and ear training application for the iPhone and iPod Touch. It provides lessons for learning to recognize intervals, chords, scales, pitch and tempo (bpm) with detailed statistics. Karajan is a great tool for music theory students, whether they are in junior high, high school, or college. It is also very useful for every hobby musician."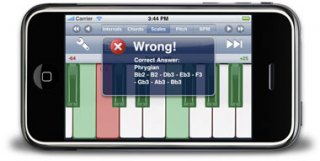 What we say
Karajan is our APP OF THE WEEK. Karajan is pure fun. Improving our music skills is fairly easy with this program. Karajan includes:
Intervals
Chords
Scales
Pitch
Tempo (BPM)
5 built in instruments
Pre defined and individual levels
Detailed statistics function
Reverse play
4 different play modes
Karajan is available in two versions. The beginner version does not include all functions, but is free of charge. Get it from the AppStore (links are provided below). For first testing purposes this is the app of your choice.
Karajan is really easy to handle. See this video here:

Suggestions
We wonder, why this has not been released for a Mac yet? Holger, come on…
Download
» Get "Karajan Beginner" for free here…
» Get "Karajan" (14.99US$ or 11.99€) here…