Update July 27th, 2008: In their testing program Juma found issues with some european carriers using 3G technique. In contrast to other SIM proxy manufacturers, Juma does not want to sell solutions that don't work 100% on either GSM or 3G/UMTS networks. Customers who had already ordered got full refund on saturday and sunday. Anyway: we heard Juma is researching these issues to come up with a solution as soon as possible

It finally seems to be true. We already reported that unlock specialists from Brazil and from Vietnam independently from each other announced they can unlock the new 3G iPhones using a proxy SIM solution. But nobody (at least in Europe) got such proxy SIM into their hands.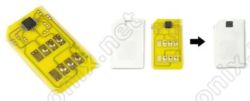 Anyway here seems to come the real deal: a working proxy solution hit the streets of germany as of today. It is called iPhonix and is manufactured by Juma FZE – a trading company located in Dubai. As initial offer iPhonix will cost 50€ (about 80US$), instead of 59€. Sadly the product page seems to be available in german only by the moment. We already ordered a product sample, but as we don't have it yet: we can't confirm, but the german Magazine MacBug does (see german article here). Update: This currently does not work with any german carrier!

On the following video you can see a white iPhone 3G running with german interface. The iPhone 3G is obviously carrier locked (most likely to the german T-Mobile D1 net). After inserting the iPhonix proxy it connects to the carrier of Dubai (Etisalat) – obviously roaming. Anyway this is not the best video to convince german customers. We'd better seen checking out a T-Mobile SIM and putting in an O2 or Vodafone card that does not work and then after using the proxy… You know what I mean… And where is the making calls… Anyway see their promotion video here: