One day before the official launch of the iPhone 3G, over here in Germany the Appstore is already accessable. This comes in a moment where some sites and forums rumor that the new 2.0 firmware can also already be downloaded for offline update. We recommend to not download the 2.0 firmware yet. The Pwnage tool does not support firmware 2.0. Be warned if you brick your iPhone.
How to access AppStore (one day before offical launch)
start iTunes
open the iTunes Store
search for an App like Super Monkey in the iTunes Store
et voilà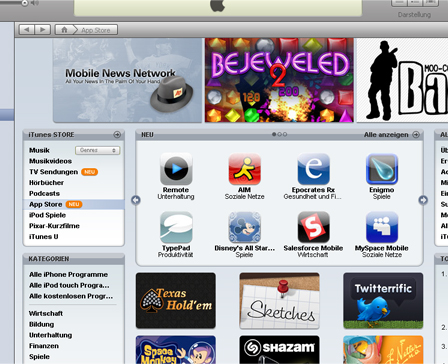 Types of programs you can buy or download for free
The AppStore is a major step into the right lane. Apple did the right thing here. Prices vary depending on the application. The highest price we've seen yet is 25.99€ for "Universalis". "Universalis" contains psalms, prayers and readings from the Catholic Liturgy. Believing in God seems to require the iPhone nowadays.
Even Erica Sadun (kudos!) got some titles into the AppStore, like her famous To Do List, that we all know from the AppTab Installer days.
Enuff said: get yourself an own impression and start your iTunes, now…