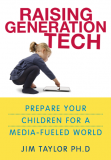 In his latest book "Raising generation Tech – Preparing your Children for a Media-Fueled World", Jim Taylor, psychologist explores how nowadays technologies shape the lives of our children.
He argues that many parents as digital immigrants should think twice before they use media technologies to have their children – the digital natives – entertained.
According to Amazon.com "The essential message from Raising Generation Tech is that excessive or unguided exposure to popular culture and technology is not good for children."
Well, but is that really something the people didn't know before Dr. Taylors book release? Or the other way round: does Dr. Taylor really expect the entertainment media addicted people who themselves grew up in front of the TVs to read his book to change the way they raise their children?
Taylor's intention is great and we think many people second his thoughts, but we are rather not entirely convinced by his strategy…
» Amazon.com: "Dr. Jim Taylor (2012): "Raising Generation Tech"…
;