Update 26.06.2008: Read latest news about EFI-X here... Update 22.06.2008: Read latest news about EFI-X here...
The newest on the market is announced to be released on 23. June. It is called EFI-X and seems to be quite a revolution. Technically it is a small USB dongle that contains a bootloader. That bootloader allows booting of native MacOS X installer DVDs or yet installed MacOS X installations... Are you yet shackling your heads? Well, we are. It is said it will support any PC hardware to run OS X. At that point we are skeptical, since even Apple themselves are not able to support any hardware... We expect this to allow seamless installation on close-to-original-mac hardware. Which means: Intel Core2Duo on MoBo's with Intel chipset and typical ATI or NVidia graphic adapters. But anyway: the installation will become simple and easy. No more BrazilMac workarounds or illegal downloading thru torrents from darkest places on the net. More features - as far as known yet - to be found in the updates section below the video. We are quite curious about more details but currently the
project's website
doesn't contain anything more than we just told you. Netkas provides a video that shows the bootscreen. Sadly it is of poor quality and light, but see here:
Update (14.08.08):
Rumors on forums are telling about the specifications of your PC required to allow EFiX to run MacOS X
Intel Core 2 Duo (not likely to support AMD)
Intel chipsets on MoBo's req
ALC889A or ALC885 audio chipset on MoBo to work out of the box
USB stick needs to plugged all the time (well who cares?)
Update II (15.06.08):
Althought not finished, the website of EFI-X.com has been updated during the last few hours. It seems, the following product versions of EFi-X will be sold:
EFiX for desktop computers
EFiX for notebooks
EFiX PCI version
EFiX complete systems
That looks promising. More to come at latest on 23rd...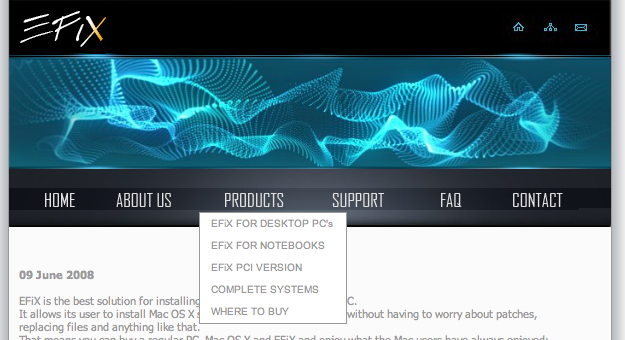 Update III (16.06.08)
An FAQ has been published by the EFi-X Team. It clearly states,
AMD CPUs are not supported
, yet - as expected...